President Donald Trump and First Lady Melania Trump have tested positive for COVID-19, they and their doctor announced on Friday.
Trump, 74, said he and his wife would "begin our quarantine and recovery process immediately."
"We will get through this TOGETHER!" he added in a social media statement.
The first lady, 50, later announced on Twitter, "As too many Americans have done this year [the president] I are quarantining at home after testing positive for COVID-19."
"We are feeling good & I have postponed all upcoming engagements. Please be sure you are staying safe & we will all get through this together," she said.
Sean Conley, physician to the president, said in a statement released by the White House that both Trumps are "well at this time, and they plan to remain at home within the White House during their convalescence.
"The White House Team and I will maintain a vigilant watch, and I appreciate the support provided by some of the country's greatest medical professionals and institutions. Rest assured, I expect the President to continue carrying out his duties without disruption while recovering, and I will keep you updated on any future developments," Conley said.
Memorandum from President @realDonaldTrump's Physician pic.twitter.com/ujHUufQBln

— Judd Deere (@JuddPDeere45) October 2, 2020
Centers for Disease Control and Prevention (CDC) guidelines advise people who have been in close contact with a COVID-19 patient should quarantine for 14-days because the incubation period for the CCP (Chinese Communist Party) virus can last up to two weeks.
The CCP virus causes COVID-19, a disease.
White House aide Hope Hicks tested positive for COVID-19 on Thursday.
Trump, speaking to Fox News's Sean Hannity in a phone interview Thursday night, said that he and the first lady had just gotten tested for COVID-19. Trump said he and his wife "spend a lot of time with Hope and others."
"It's very, very hard when you are with people from the military or from law enforcement, and they come over to you and they want to hug you and they want to kiss you because we really have done a good job for them, and you get close and things happen," he added.
Hicks was wearing a mask when flying with Trump this week.
"She's a hard worker, a lot of masks," Trump said. "She wears masks a lot, but she tested positive."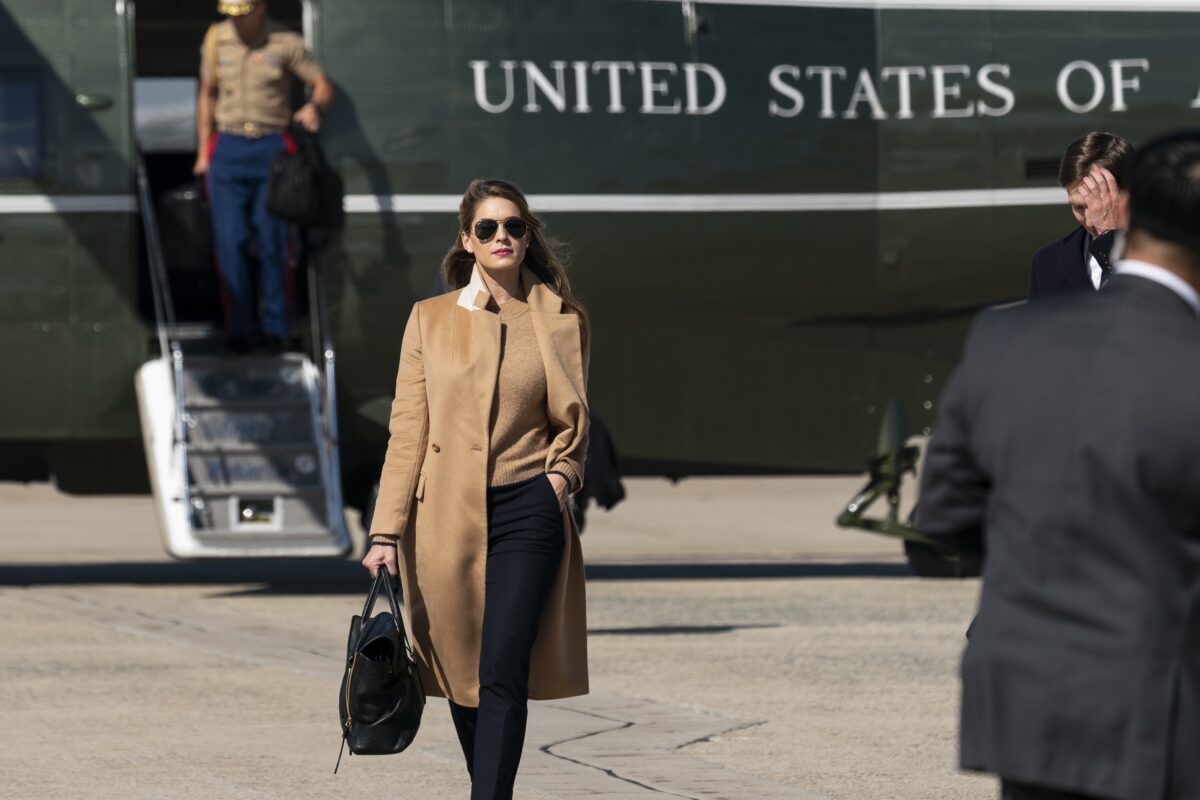 A White House official told news outlets late Thursday, "Contact tracing has been done and the appropriate notifications and recommendations have been made."
Contact tracing is the practice of identifying which people had been in contact with a person following a COVID-19 diagnosis.
People in contact with confirmed cases should avoid others, especially people at higher risk of getting very sick from COVID-19, such as the elderly and people with serious underlying medical conditions, according to the CDC.
Contacts are told to get tested for the new disease.
Even people who do not test positive are encouraged to stay home for two weeks and monitor their health.
Symptoms of COVID-19 include fever, chills, and loss of taste and smell.
It wasn't immediately clear if Vice President Mike Pence was one of Hicks' contacts. The White House didn't respond when asked if Pence would be tested.
Trump planned to hold a roundtable with supporters in Washington and fly to Florida on Friday for a rally. Both events are now canceled, according to the White House.
An early afternoon phone call "on COVID-19 support to vulnerable seniors" is currently the only thing on Trump's daily schedule.
White House press secretary Kayleigh McEnany said in a statement early Friday that "The strength of the entire country is with" the president and the first lady.
"America stands united. Our country stands strong. Your President will continue to put the People first!" she said.
Other world leaders have tested positive for COVID-19, including Britain's Prime Minister Boris Johnson, Brazil's President Jair Bolsonaro, and top Iranian officials.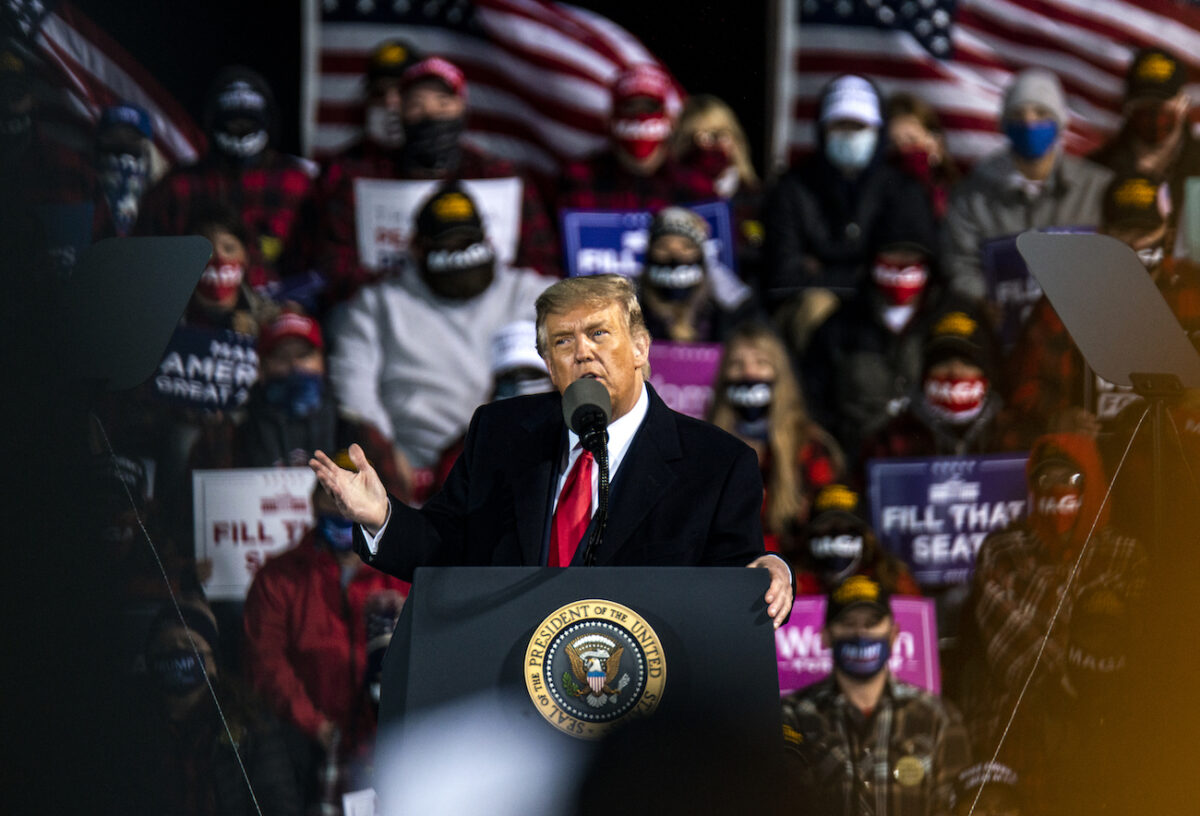 Members of Congress wished the Trumps well.
"There will be a lot to say about this, but let's start here: The President and the First Lady have a serious, deadly virus and we should all hope for a full recovery," Sen. Chris Murphy (D-Conn.) said in a social media statement.
"We're all hoping for a speedy recovery Mr. President," Rep. Mike Simpson (R-Idaho) added.
Others criticized Trump upon hearing the news.
"I hope he recovers fully. He needs to face justice," Rep. Jared Huffman (D-Calif.) wrote on Twitter.
"Unfortunately, POTUS' experience with COVID may determine if he changes his tune and attitude or not. If he quickly recovers & is symptom free, will he continue to mock those who wear a mask? Will he still say (re: deaths) 'it is what it is'? Or continue to downplay its danger?" Rep. Nanette Barragan (D-Calif.) said.
Trump said in an interview with Axios last month that he believes his administration has the COVID-19 situation under control.
"How? A thousand Americans are dying a day," a reporter said.
"They are dying. That's true. And you—it is what it is," responded. "But that doesn't mean we aren't doing everything we can. It's under control as much as you can control it."
Mimi Nguyen Ly and Katabella Roberts contributed to this report.
---
IMPORTANT DECLARATION: ReporteroCubano.Net does not necessarily share the political views expressed in articles published from other information media. |Visit the source for more information