President Donald Trump has not received oxygen since testing positive for COVID-19, his doctor said Oct. 3.
Speaking in front of Walter Reed Medical Center in Bethesda, Maryland, Dr. Sean Conley initially said Trump had not received oxygen on Friday or Saturday, before clarifying that he hadn't been on oxygen at all on Thursday either.
COVID-19 is the disease caused by the CCP (Chinese Communist Party) virus.
Trump tested positive for the disease on Thursday.
Asked to estimate the probability that Trump would need oxygen at some point, Conley said he didn't want to put a percentage out there.
"But right now all indicators are that he'll remain off of oxygen, going forward," he told reporters at a news conference.
Trump was at a 96 percent oxygen saturation level, which is normal. If a patient's saturation dips to below 90 percent, then supplemental oxygen would likely be needed, according to the Lung Health Institute.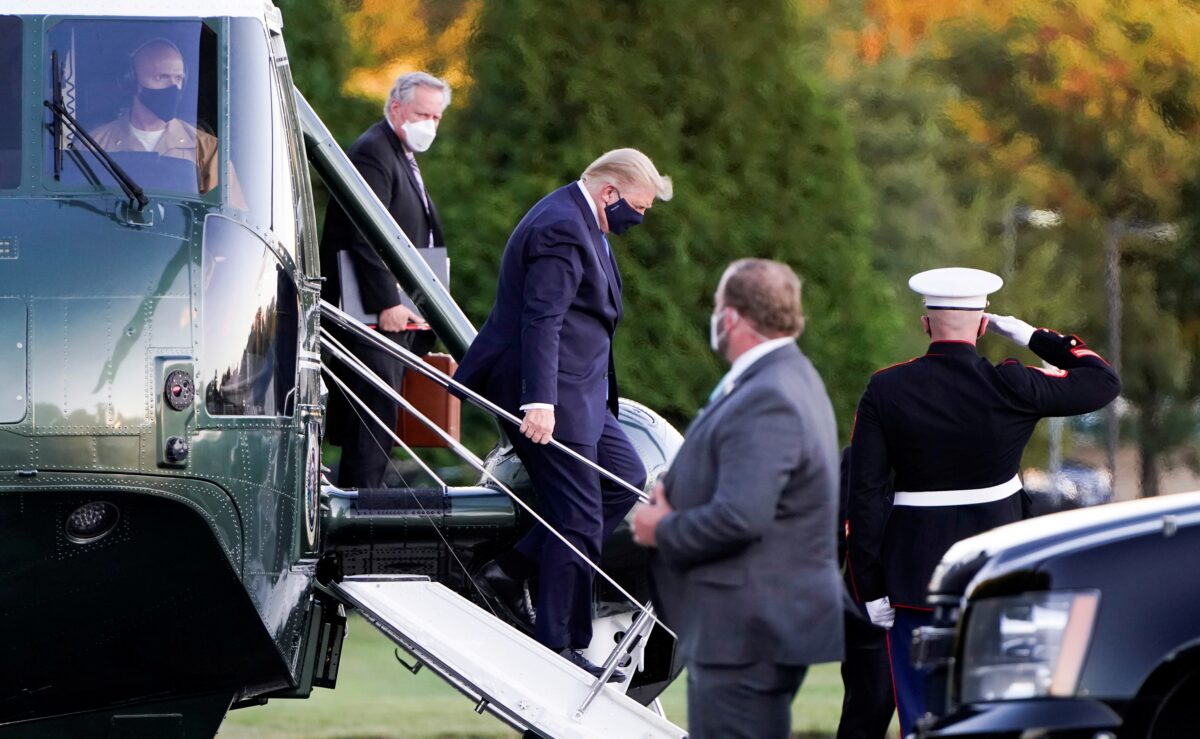 Conley had penned three memorandums since Trump's diagnosis but it was the first time he answered questions about the president's health.
Trump showed symptoms of the new disease, including a mild cough, nasal congestion, and fatigue. He also had a fever on Thursday night into Friday.
All the symptoms are resolving and Trump has remained fever-free since Friday morning, according to the doctor.
Trump received a dose of RegEneron's polyclonal antibody cocktail, as well as zinc, vitamin D, famotidine, melatonin, and aspirin, according to an Oct. 2 White House memo.
Trump started a course of remdesivir, an antiviral produced by California-based Gilead Sciences, on Friday evening.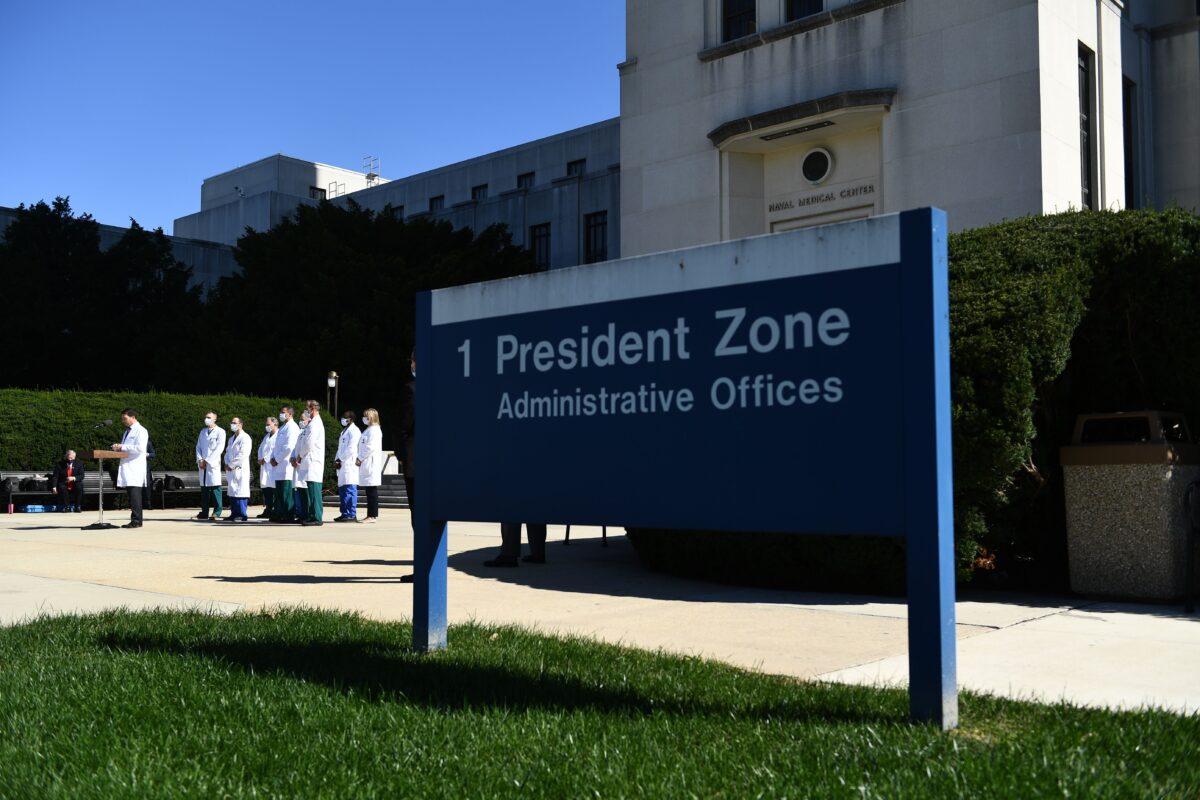 Trump's doctor and the medical team at Walter Reed plan on giving Trump a 5-day course of remdesivir.
There's no estimated date of discharge from Walter Reed, the nation's largest joint military medical center, which sits about 15 miles northwest of the White House. Trump was flown there on Friday afternoon.
"He's doing so well, but the known course of the illness, day 7 to 10 we get really concerned about the inflammatory phase," Conley said.
"Given that we provide some of these advanced therapies so early in the course, a little bit earlier than most of the patients we know and follow, it's hard to tell where he is on that course, and so every day we're evaluating, 'does he need to be here', 'what does he need', and 'where is he going.'"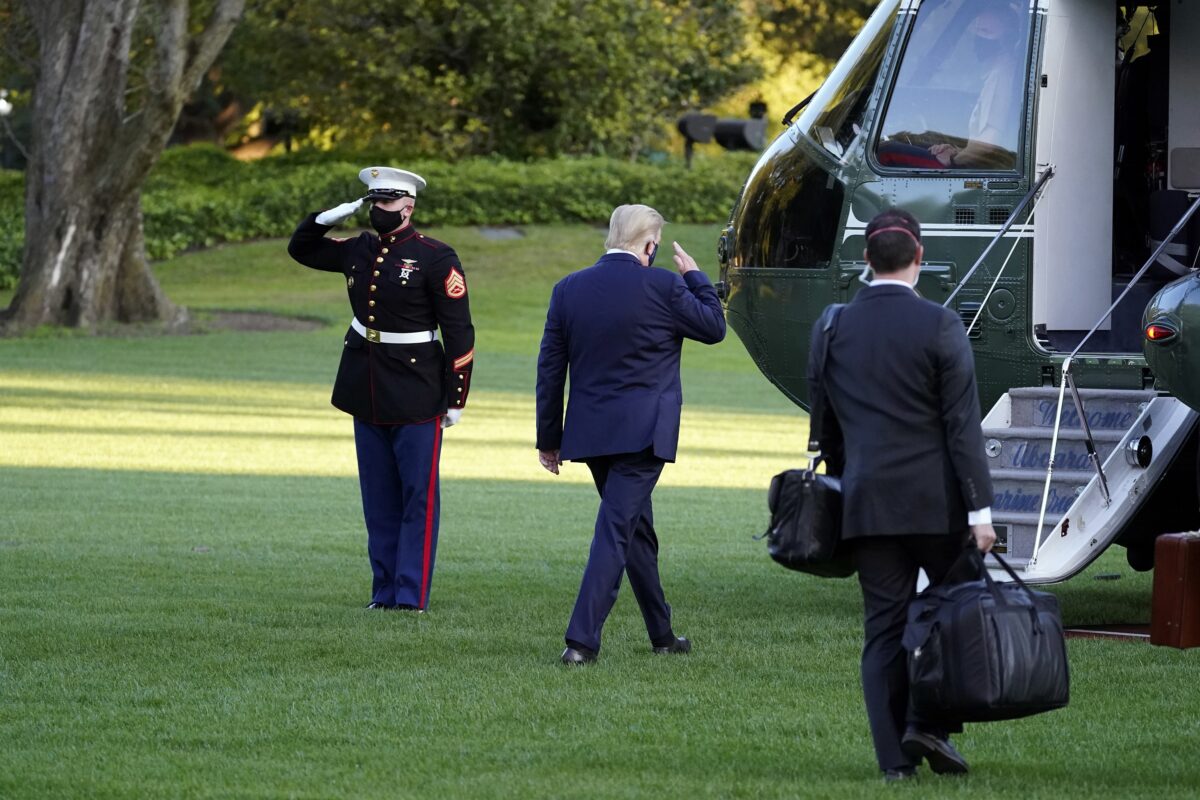 Trump's doctor expressed the idea that he didn't want to hold anything back in terms of treatment when questioned about the use of remdesivir.
"If there was any possibility that it would add value to his care and expedite his return, I wanted to take it," he said.
It's possible Trump returns to the White House before 5 days have elapsed, depending on his condition. Doctors can continue providing treatment there.
Trump's health is good overall, Conley said.
"He's 74. He's male. And he is slightly overweight. Other than that, he is very healthy," he told reporters.
First Lady Melania Trump is still at the White House.
"She has no indication for hospitalization, advanced therapy," Conley said.
---
IMPORTANT DECLARATION: ReporteroCubano.Net does not necessarily share the political views expressed in articles published from other information media. |Visit the source for more information