El Presidente Donald Trump prefiere no usar la Ley de Insurrección The Insurrection Act (1807), para sofocar los disturbios en ciudades como Portland, sino que quiere ayudar a las ciudades a controlar la situación, dijo el Lunes la Secretaria de Prensa de la Casa Blanca, Kayleigh McEnany.
"El Presidente no quiere invocar la Ley de Insurrección, que se ha utilizado con mucha moderación", dijo McEnany a los periodistas en Washington.
"Pero lo que sí quiere es ayudar a estas ciudades en lo que pueda. Y cuando ves a Kenosha, cuando entraron las fuerzas federales, hubo paz y [en] Minneapolis. En ambos casos, fue por invitación del Gobernador. Por eso queremos trabajar en colaboración con alcaldes y Gobernadores demócratas. Después de todo, tienen el poder policial incorporado en la Constitución para controlar sus calles, pero nosotros, como Gobierno Federal, estamos dispuestos a complementar".
Los oficiales de Oregon continúan rechazando las ofertas de la Administración Trump de asistencia federal para sofocar más de tres meses de disturbios, incluido un tiroteo fatal durante el fin de semana. Por el contrario, los funcionarios de Wisconsin aceptaron la ayuda federal y sofocaron los disturbios después de tres días, señaló McEnany.
En declaraciones a partidarios en New Hampshire el 28 de Agosto, Trump dijo que el Gobierno Federal "no debe entrar a menos que lo llamemos insurrección, pero esa es una gran declaración".
"Es una gran declaración, no hay razón para ello, pero ¿saben lo que vamos a hacer? Vamos a tener que considerarlo", agregó. "Porque no vamos a permitir que eso le pase a la gente que va a la Casa Blanca para celebrar a nuestro país".
El senador Rand Paul (R-Ky.) fue uno de los que fueron atacados por los manifestantes en Washington luego del discurso de aceptación de Trump a la nominación presidencial republicana. Paul dijo que la multitud furiosa amenazó con matarlo.
McEnany señaló a Washington como una de las seis ciudades que están dirigidas por demócratas y que se han visto afectadas por disturbios en los últimos meses.
"Si bien este Presidente siempre está dispuesto a estar presente, a los demócratas les corresponde dar un paso al frente: invitar a las fuerzas del orden federales, estamos listos. No toleren la anarquía, la violencia y la destrucción. Los disturbios no están bien. Aseguren sus calles", dijo.
La Ley de Insurrección, es una ley de 180, que permite a un Presidente convocar a la milicia de cualquier estado para hacer cumplir las leyes o reprimir la rebelión si "considera que las obstrucciones, asociaciones o reuniones ilegales, o la rebelión contra la autoridad de Estados Unidos, hacen que sea impracticable hacer cumplir las leyes de Estados Unidos en cualquier estado por el curso ordinario de los procedimientos judiciales".
Siga a Zachary en Twitter: @zackstieber
Descubra
El PCCh prefiere que Trump no gane un segundo mandato
La entrada Trump no quiere invocar la Ley de Insurrección pero quiere ayudar a las ciudades, dice la Casa Blanca aparece primero en LA GRAN ÉPOCA.
---
ACLARACIÓN IMPORTANTE: ReporteroCubano.Net no necesariamente comparte las opiniones políticas que se expresan en los artículos tomados de otros medios de información. | Visite la fuente para más información
Información original
White House: Trump Doesn't Want to Invoke Insurrection Act, but Wants to Help Cities
President Donald Trump prefers not to use the Insurrection Act in a bid to quell riots in cities such as Portland, but he wants to help cities get the situation under control, White House press secretary Kayleigh McEnany said on Aug. 31.
"The President does not want to invoke the Insurrection Act, which has been used very sparingly," McEnany told reporters in Washington.
"But what he does want is to help these cities where he can. And when you see Kenosha, when federal forces came in, there was peace, and Minneapolis. In both of those cases, it was at the invitation of the governor. So we want to work collaboratively with Democrat Mayors and governors. They after all do hold the police power as embedded in the Constitution to control their streets, but we as a federal government are willing to supplement."
Oregon officials continue to reject offers from the Trump administration for federal assistance to quell more than three months of unrest, including a fatal shooting over the weekend. By contrast, Wisconsin officials accepted federal help and quelled riots in three days, McEnany noted.
Speaking to supporters in New Hampshire on Aug. 28, Trump said the federal government is "not supposed to go in unless we call it an insurrection, but that's a big statement."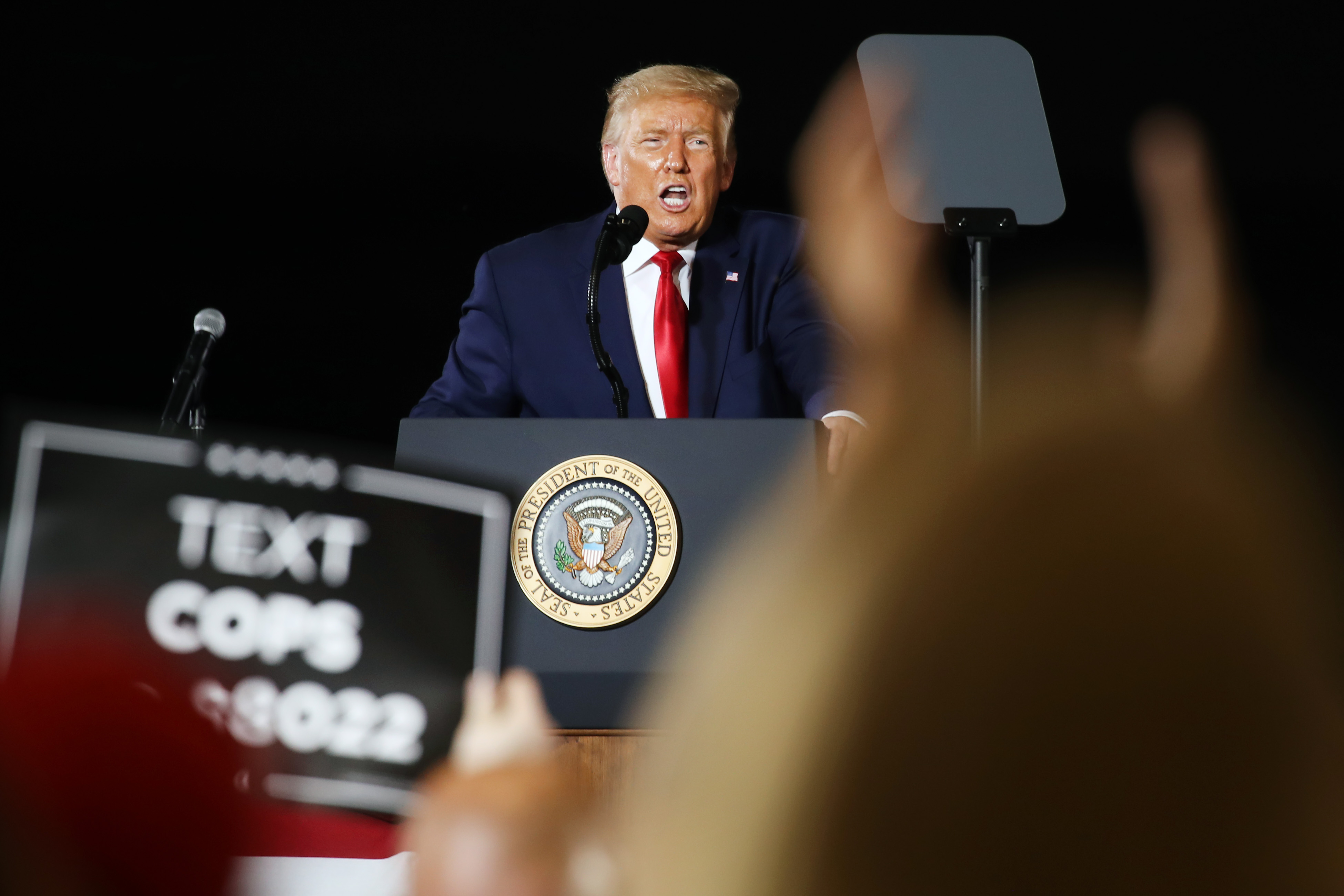 "It's a big statement, no reason for it, but you know what we're going to do? We're going to have to look at it," he said. "Because we're not going to let that happen to people that go to the White House to celebrate our country."
Sen. Rand Paul (R-Ky.) was among those accosted by demonstrators in Washington earlier in the day after he departed Trump's speech accepting the Republican presidential nomination. Paul said the angry mob threatened to kill him.
McEnany pointed to Washington as one of six cities that are run by Democrats and have been impacted by rioting in recent months.
"While this president is always willing to show up, it is incumbent on Democrats to step up: Invite Federal law enforcement in—we stand ready. Do not tolerate anarchy, violence, and destruction. Rioting is not right. Secure your streets," she said.
The Insurrection Act, an 1807 law, enables a President to call up the militia of any state to enforce laws or suppress rebellion if he "considers that unlawful obstructions, combinations, or assemblages, or rebellion against the authority of the United States, make it impracticable to enforce the laws of the United States in any State by the ordinary course of judicial proceedings."
---
IMPORTANT DECLARATION: ReporteroCubano.Net does not necessarily share the political views expressed in articles published from other information media. |Visit the source for more information